Crossville Porcelain Tile
About Crossville Porcelain Tile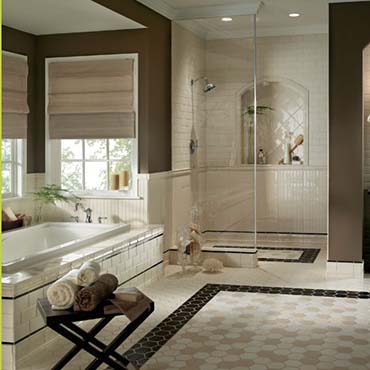 Crossville, Inc. is a leading provider of porcelain stone, glass, and natural stone tile for interior and exterior floors, walls, and countertops. Made from natural elements, our surface covering products yield a variety of unique textures, looks, and functions for designers and architects.
Applications for use
Our products can be used indoors and outdoors, in both residential and commercial spaces. From sprawling retail spaces to luxurious residential guest bathrooms, American-made Crossville tile is chosen by designers and architects in all industries for its beauty, sustainability, and functional design.
Indoor
Indoor floors and walls have long been adorned with beautiful tile. Crossville's porcelain, glass, and natural stone collections give interior designers fresh takes on a classic surface covering.
Outdoor
Tile is known for its natural durability, beauty and versatility. These inherent qualities, coupled with our innovative coatings and finishes, make for beautiful, long-lasting exterior surfaces.
Countertops
Large-scale porcelain tile creates stunning and easy-to-maintain counter surfaces in kitchens, bathrooms, retail, and office spaces—without all the grout lines.
Sizing Options
From small, glass mosaic pieces to large-format, multi-meter long panels, Crossville offers a variety of sizing options for traditional pattern design, boundary-pushing layouts, or modern, minimalist lines. Our quality and consistency in manufacturing also produces highly uniform tiles.
Sustainability
When it comes to green design, tile is one of the most sustainable surface coverings on the planet—it's created from dust, sediment, and recycled porcelain, and best of all, it can be recycled. Headquartered in Crossville, Tennessee, we have become the first net consumer of tile waste (meaning we recycle more than we produce). So in addition to manufacturing beautiful, made-in-America tile, we also divert millions of pounds of waste from landfills.
Our Technologies
Design accomplishes many things, it can make heads turn and jaws drop, but it can also deliver benefits that make your life, and your clients', easier in the long-run. Our proprietary coatings and finishes help seal sustainable and protective features into your tile for long-term beauty and function. Learn more about our tile technologies.
---
NOTE:
Exploring Flooring Inc does not carry every style of Crossville Porcelain Tile. Check with them first about a particular product or to see if your product choice is available for special order.
---
Learn all about tile with Crossville, Inc. We'll teach you what to keep in mind as you buy, how to install it, and how to care for your tile floors, walls, and countertops.
Learn More
Clicks (28701) | Clicks Today (21)