Karndean Waterproof Flooring
About Karndean Waterproof Flooring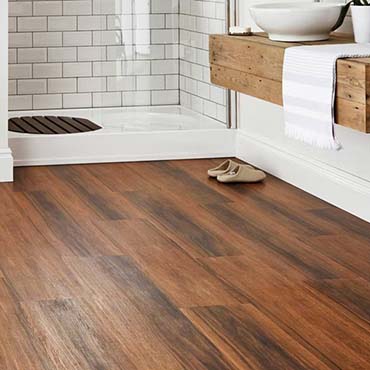 Karndean design flooring replicates the look and feel of natural materials; such as - slate, ceramic, marble, glass, limestone and wood. Made from an exceptionally durable form of customised vinyl, Karndean comes without the drawbacks of some natural products and is much warmer and quieter under foot, offering any home or business an easy and low cost flooring option. As Karndean comes as individual planks and tiles the product offers a significant advantage to designing your own personalised floor. Karndean was established in 1973 with offices in the UK, Australia, New Zealand and the USA. Our dedication to product research and development has earned the company a reputation around the globe for supplying imaginative, innovative and affordable flooring products to both consumers and businesses.
---
NOTE:
Exploring Flooring Inc does not carry every style of Karndean Waterproof Flooring. Check with them first about a particular product or to see if your product choice is available for special order.
---
---
Meet Maya. A freelance journalist, blogger and busy mum, Maya takes us through her inspired 1970s house and her journey to picking a Karndean floor. Along the way, Maya introduces us to her beautiful family and explains why Karndean was the perfect fit for her home - ticking boxes for comfort, durability and easy maintenance.
Watch Video
Visit Website
---